On a Ring and a Prayer: The Journey of David Borowski (Paperback)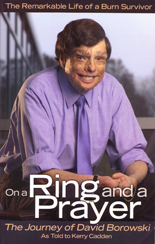 When Dave Borowski sustained life-threatening burn injuries over much of his tiny body at the age of six weeks, the prognosis was as bad as it gets. He survived the ordeal with the loss of his right hand and part of his left hand and significant disfigurement. Eighteen years and dozens of surgeries later, he barely graduated from high school before heading down a slippery slope that included stints in the local jail and a dismal lack of direction. A career, romantic relationships and the concept of thinking more than five minutes ahead weren't even on the horizon.
Today, more than fifty years after that devastating fire, Dave holds an advanced degree in economics and finance, is a retired director in one of the wealthiest financial organizations in the world and serves, with the support of his wife, as the Executive Director of Flicker of Hope Foundation. This is the story of how a seriously challenged young man turned frustration into amibition, agitation into determination and fierce independence into a resolve to help others finding their way along the grueling road he knows so well. Proceeds from sales of this book support Flicker of Hope Foundation.
* Shipping and Handling Fees
Purchase the book online using our secure PayPal system below, or buy it through Amazon.com. Retailers are welcome to call our customer service department for our discount rate at (703) 698-1626.
Price: $12.99
(plus shipping & handling*)

"This is a story of great personal courage and conviction. It is a story of hope and love and faith and hard work. Thank God that this young man overcame the incredible odds that he did in order to share his multitude of gifts with the world around him. He is an inspiration to us all, a Gold Medal winner in the ultimate game – the game of life."
Steve Janaszak, Gold Medal winner, 1980 U.S. Olympic Ice Hockey Team
"I have been honored to work with Dave Borowski and witness firsthand his determination to help others. That determination, and Dave's remarkable courage, shines through in every word. This book is a detailed evolution of hope, confidence, humor, and the human spirit."
Rosa DeLauro, U.S. Congresswoman
"Wow. Dave's story is an inspiration to all those facing challenges beyond their control. His courage and resolve through struggles I can't imagine brought tears to my eyes as I have the distinct honor of knowing the wonderful man those experiences produced. Dave triumphs daily in a world that values appearances over inner beauty, and his story is too compelling to ignore."
Fred Knight, President, UPSI
"Dave is an inspiration to everyone he meets and this book poignantly chronicles why. It portrays the progression of a youth, tempered by enormous struggle, who achieves a successful life through ingenious practicality, indomitable will and unfailing confidence."
Dick Syron, Chairman of the Board and CEO, Freddie Mac